Services
Branding
Design
UI/UX Design
Responsive Web Design
Project Overview
Glensavage is an exclusive residential development in south Dublin, launched by Bartra. Located in a beautifully landscaped woodland setting in the prestigious area of Blackrock, with stunning apartments, houses & gate lodges for sale.
High-end design
We were tasked with creating a brand that communicated the development's elegant, luxurious yet simple nature. We worked with Bartra on the branding of Glensavage, creating a premium look and feel to reflect the quality of homes and location of the scheme.
Sophisticated Simplicity
An approach of sophisticated simplicity allowed the focus to fall on the strength of the project itself – highly considered architectural design and natural surroundings being at the heart of the Glensavage brand.
Luscious Landscapes
We incorporated palettes of monochrome with accents of green, denoting the lush landscapes the houses will be situated amongst. Characteristics of nature/foliage were used to give prominence to the surroundings, and give the impression of living that simple life in 'a world away'.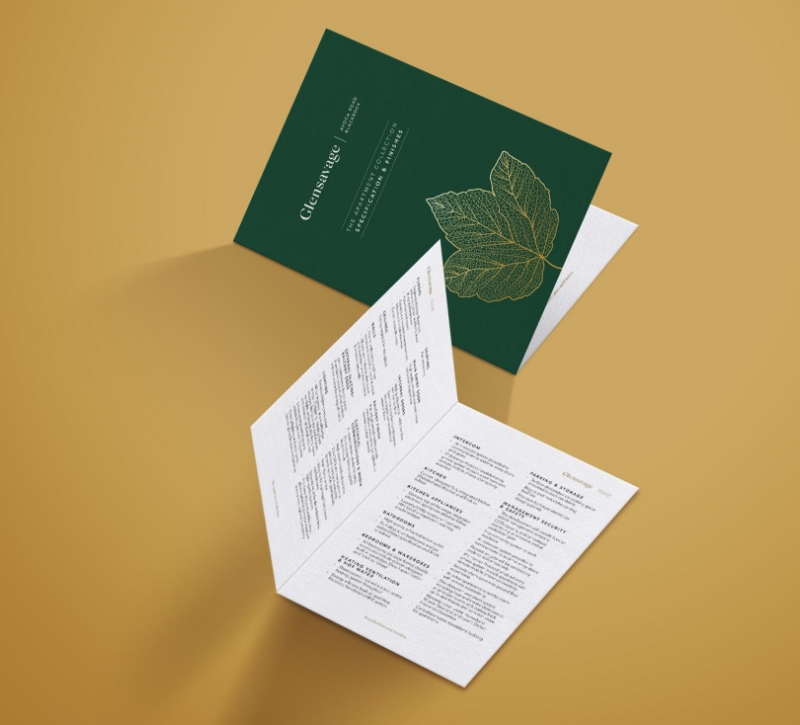 Special Printing
We used special methods when printing the marketing collateral in order to create an enhanced and tactile feeling at every touch point of the brand. Gold foil and embossing techniques were used to give emphasis to the luxurious nature of the properties.
Web Design
Awareness of the apartments needed to be created online. We designed and built the Glensavage website, showcasing the prime location, surrounding amenities, and unique Scandinavian design of the homes through visual elements, strong photography, and clear, simple copy. The website design was carefully aligned with the Glensavage branding to maintain the consistent message that this is a housing development of the highest quality.