Project Overview
The Annual Knowledge Transfer Survey provides a year-on-year report on the vital engagements between academia and industry, to deliver success to not only individual endeavors - but as a key element putting research and innovation at the heart of Ireland's continuing economic success.
'Data Heavy'
By it's content nature the Annual Knowledge Transfer Survey (AKTS) was quite 'data heavy', akin to an Annual Report there was a need to detail quite a lot of financials, results, Model Agreements, Spin-out Agreements etc. So our first priority was to ensure a layout and presentation of data that highlighted using concise infographics the impact AKTS initiatives make to the wider Irish economy.
Accessible PDF
Clean charts, used in a landscape layout, in screen-readable interactive PDF form - maximised the use of colour and space to provide a document easily shared among key local and international audiences.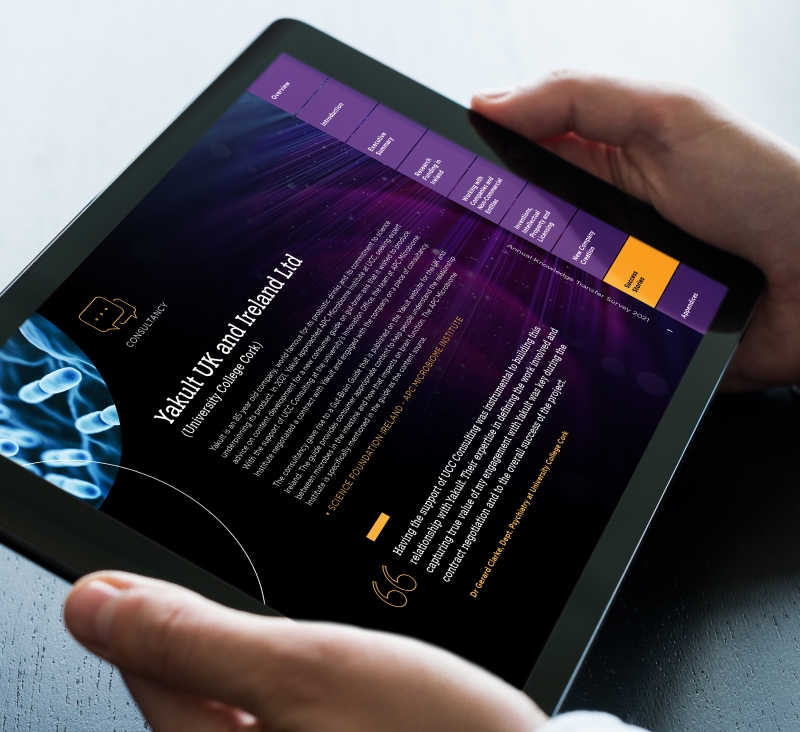 Highlights
Using chaptering allowed highlighting of key sections, including a dedicated "Success Stories" Chapter, a key element in promoting the benefits of the robust and well established Knowledge Transfer ecosystem in Ireland which delivers real results to local and international recognition.