Services
Brand Strategy
Branding
Digital Strategy
UI / UX Design
Project Overview
The Credit Union movement has been an integral part of communities across Ireland for over 60 years. In 2019, some of the largest Credit Unions in Ireland have come together under the Current Account brand and are now delivering a fully-functioning day-to-day account for Credit Union members.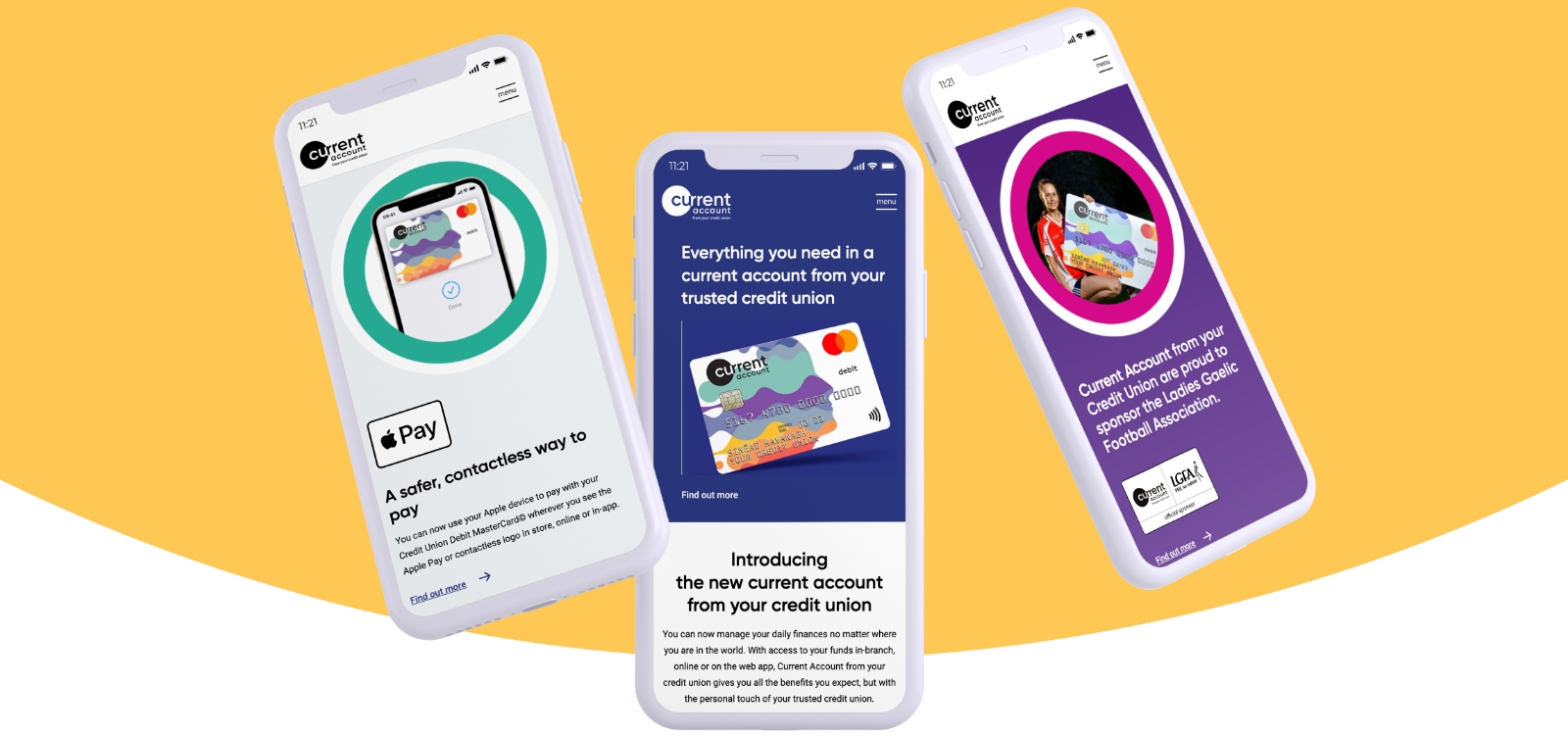 Current Account
Current Account, from your credit union, is fully approved by the Central Bank of Ireland, includes a globally accepted Mastercard Debit Card with contactless payments, standing orders, direct debits, and an overdraft facility. Credit Union members will be able to open an account online or in person at a Credit Union branch.

This exciting development will see over 30 of the largest Credit Unions in Ireland, with 115 branches throughout the country, offering Current Account to their members. Further Credit Unions are expected to provide the service in 2020. This will enhance Credit Unions' relationships with their members as prior to the launch of Current Account, there was a gap in the services that credit unions could provide their members.
Everything you need from a bank account
The 'Current Account' project began with Payac appointing Idea to develop a brand for this new offering. It was important that this brand represented the established brand values of the credit union, whilst also establishing the brand values of this exciting new service – positioning 'Current Account' as a unique offering, delivering everything you need from a bank account, but delivered by your local, trusted credit union.
Brand Rollout
Idea were asked to bring the brand to life and design a full suite of marketing materials and digital assets, that would engage credit union members throughout the country, whilst communicating the brand values and benefits of Current Account. This included a comprehensive suite of creative designs, printed material (such as pull-ups, posters, brochures, card mock-ups), as well as the design and development of the
Current Account Website
website, digital advertising & social media assets.
Project Objective
The ultimate objective of this project was to entice existing Credit Union members to sign up to Current Account for their day to day banking needs. Whilst it was important that the Current Account brand was consistently communicated nationwide, it was also important that design & materials were personalised to each Credit Union, as it is Credit Unions themselves who are and will be marketing directly to their members, supported by some nationwide activities.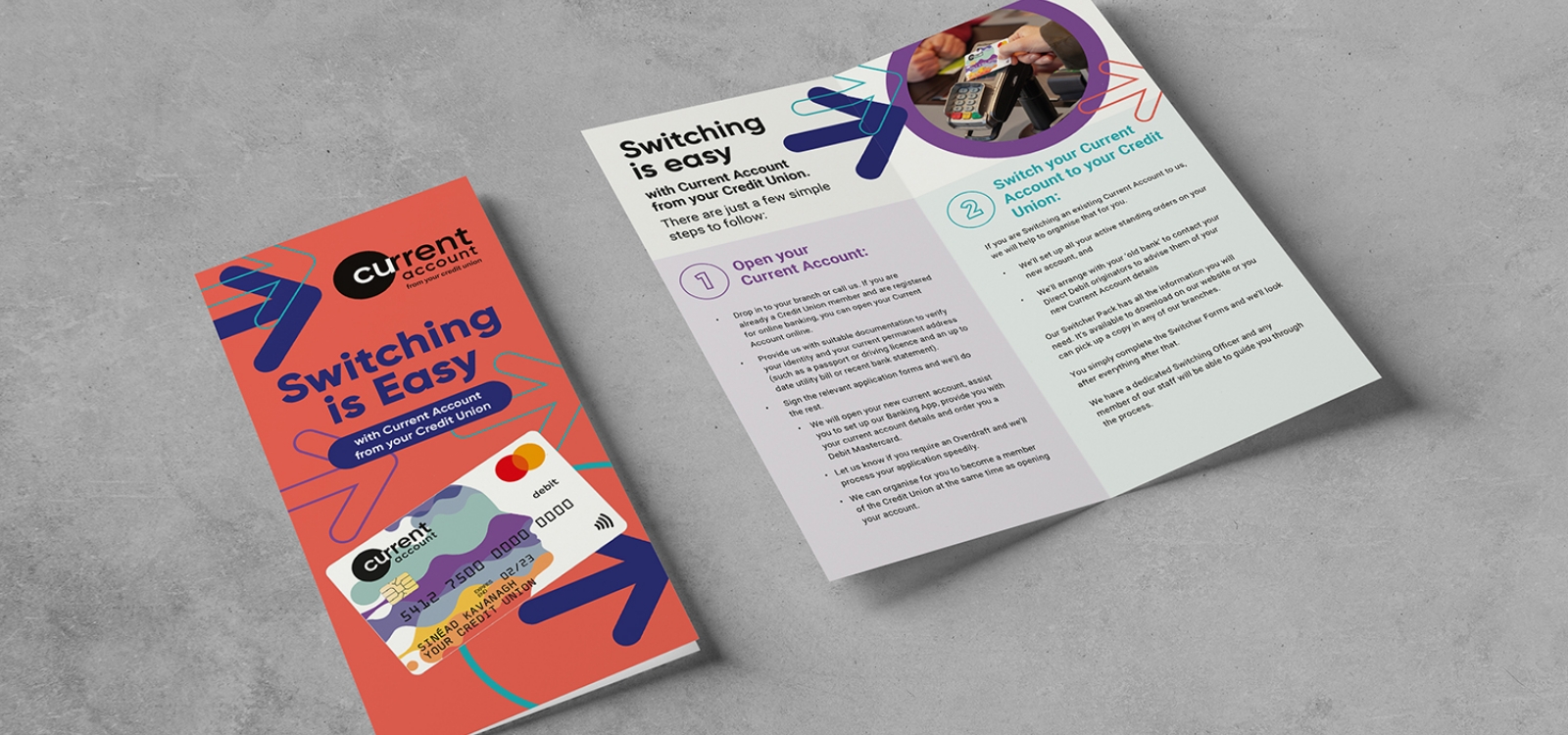 Brand Execution
In the development of the Current Account brand, Idea created a name and tagline for Current Account, as well as brand identity, brand definition and pre-launch marketing strategy. We then created the design of the Current Account Mastercard debit card, the most tangible part of Current Account.

Our brand execution approach was the development of a promotional toolkit of design files, guidelines, digital assets and marketing tips for each participating Credit Union to use in the marketing of their new Current Account service. This maintained a consistent national brand whilst also personalising the materials for each credit union allowing them to communicate that it was members' own Credit Unions that were providing this service.
Personalised Marketing Materials
We delivered a Training Workshop to Credit Union Marketing Managers, enabling them to communicate the benefits of Current Account to their members in line with the brand values created by Idea.

We also centrally produced and distributed a suite of personalised marketing materials to each Credit Union so that they could promote Current Account to their members in 115 branches throughout the country. As part of the Current Account digital presence and strategy, we designed & developed the currentaccount.ie website, the objective of which is to filter traffic and drive members to individual credit unions to sign up for this new service.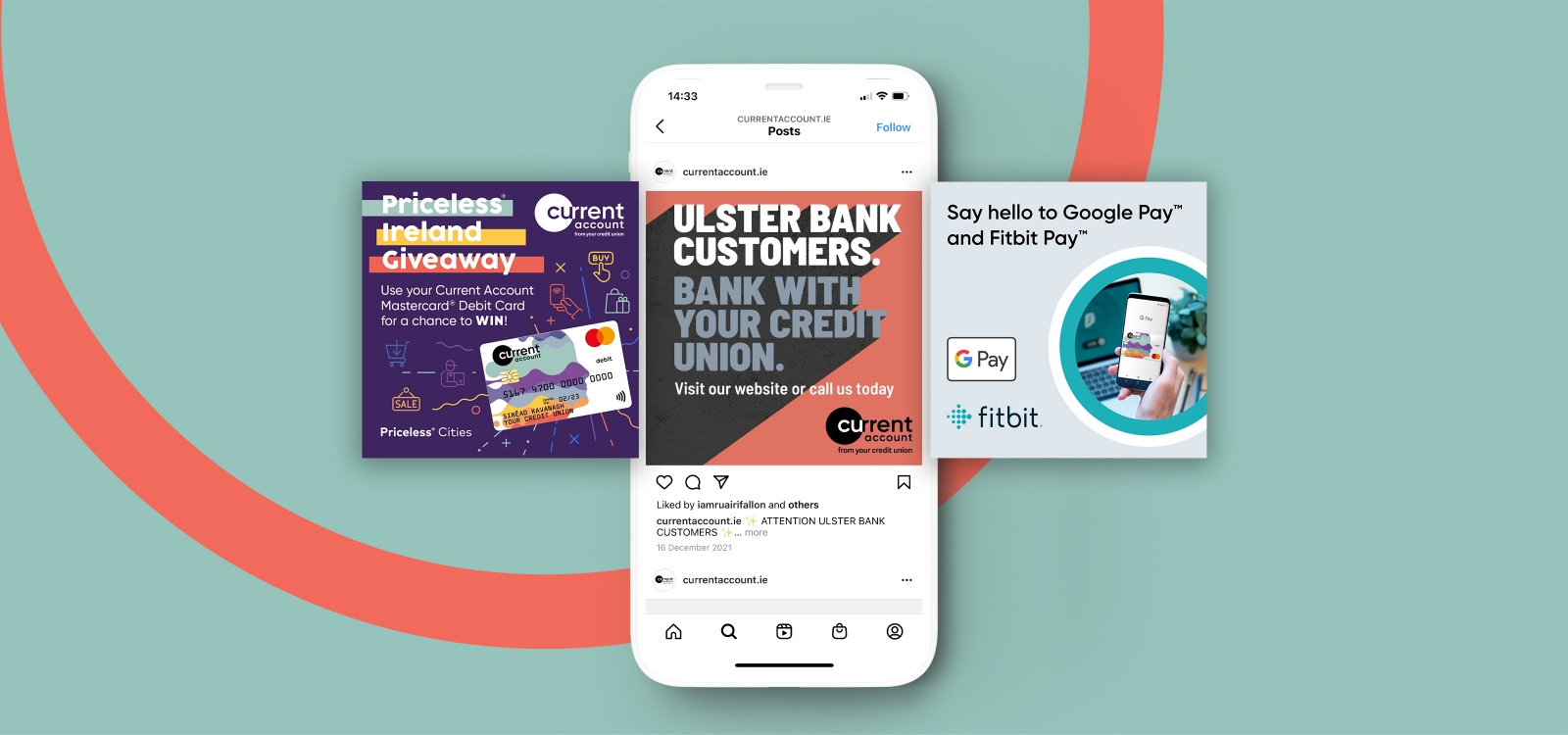 Results
Overall, the reception to Current Account has been great. The Current Account brand has featured heavily in the media since its launch on October 17th, 2019; the display of marketing materials has created a great impact in branches; and the
Current Account Website
has received high traffic volumes post launch. Participating Credit Unions have incorporated Current Account into their marketing activities successfully and Marketing Management and staff have used their expertise in the promotion of Current Account to their members. Members throughout the country have engaged with Current Account and enquiries and sign ups are continuing at pace.