Services
Branding
Photography
Video
OOH Advertising
Project Overview
Savills Ireland, a full-service real estate advisory firm, has been a prominent player in the Irish property market for over 50 years. With offices in Dublin, Cork, and Belfast, Savills Ireland covers the entire country, including Northern Ireland. Despite not having many walk-in-branches nationwide, the firm has an excellent presence in Dublin, Cork, and Belfast. To reestablish themselves in the Irish residential market, Savills Ireland aimed to create a nationwide campaign highlighting their residential business.
Specialist Residential Teams
Savills specialist residential teams are there to help whenever you need to move. This could be to rent, sell or buy. We developed the overall concept 'When you move, we move', showing that Savills are always on hand when you need them. We selected a series of models that reflected the different audiences that Savills help with their life moves, couples, young families, friends and down-sizers.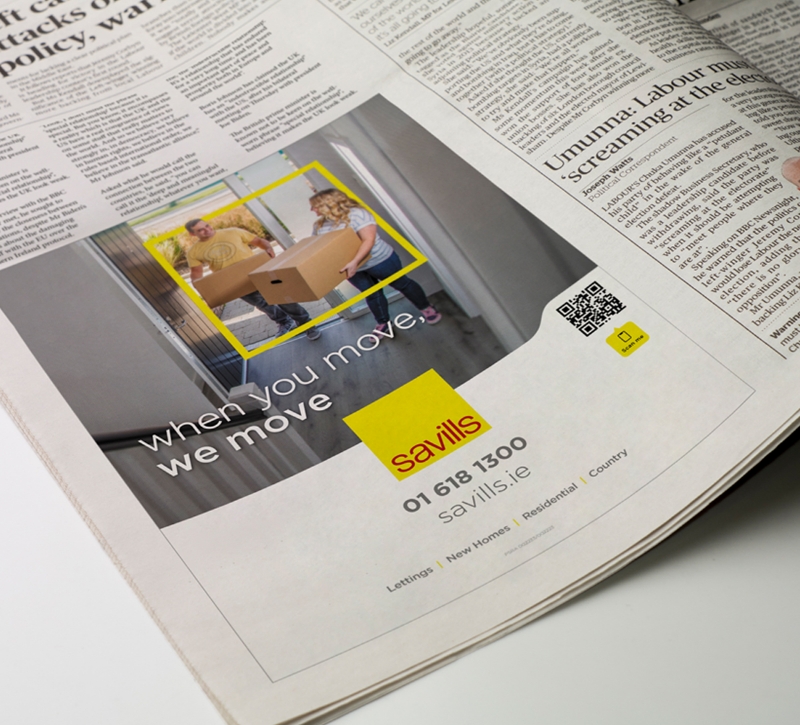 Putting focus on the customer
Savills Ireland's advertising campaign utilised the device of the yellow outline (in the shape and proportions of the Savills logo) to focus on the customer(s) who are moving in each ad. This device created a visual connection between the brand and the customer, while the shape and proportions of the outline helped to make the ads instantly recognisable as belonging to the Savills Ireland brand.
Nationwide campaign
To reach a large audience, Savills Ireland ran a nationwide Out-of-Home (OOH) advertising campaign, including bus shelters, bus backs, and Metropole Ads. This allowed the campaign to reach a wide range of people in various locations across Ireland, making it a highly effective way to raise awareness of the brand and its residential business.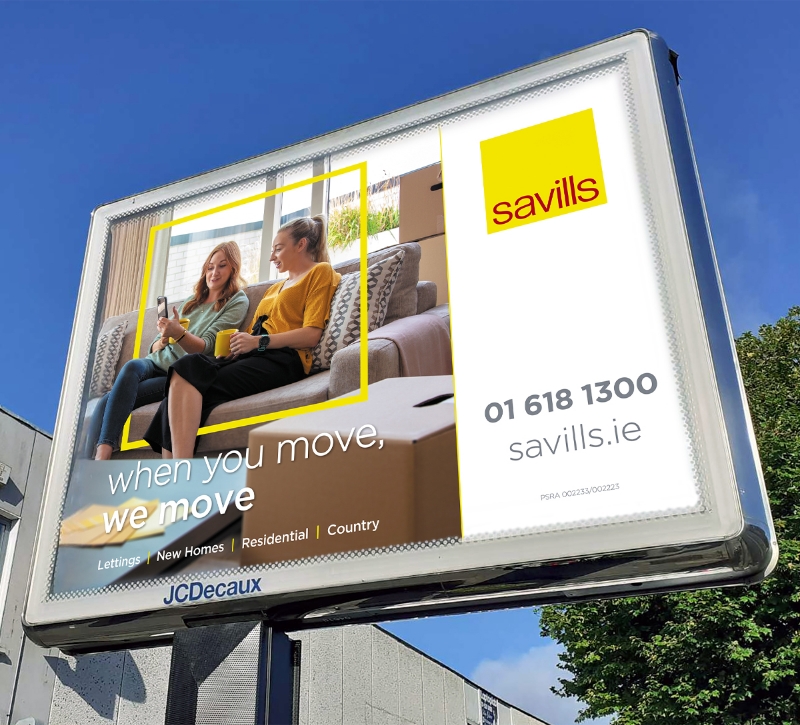 Multi-Channel Approach and Successful Campaign
In addition to the OOH campaign, Savills Ireland utilised video, social media, TV, and press advertising to reach a wider audience. This multi-channel approach allowed the campaign to reach people across various platforms and media, creating a cohesive and memorable campaign that resonated with audiences.

The campaign was hugely successful in raising awareness of Savills Ireland's residential business across Ireland, particularly in their key focus areas of Dublin, Cork, and Belfast. The campaign's success in raising awareness of the brand helped to solidify Savills Ireland's reputation as a prominent player in the Irish property market.