Services
Brand Strategy
Brand Identity
UI / UX Design
Digital Strategy
Project Overview
Headquartered in Cork, Ireland, the Simply Blue Group are a leading early-stage developer of transformative and sustainable marine projects in Ireland, the UK, and beyond.
Commitment to Sustainability
As a blue economy project developer, Simply Blue aims to deliver long-term sustainable projects through floating wind and wave energy projects and by developing sites for sustainable aquaculture farms. Passionate about the immense potential of the oceans to provide renewable energy and sustainable aquaculture, Simply Blue's mission is to raise the awareness of this potential while pioneering marine project development and collaborating with like-minded partners.
Focus on the Future
Simply Blue Energy, part of the Simply Blue group of companies, seeks to engage with coastal communities and support stepping-stone developments, to allow local supply chains to flourish, and to create skilled jobs in floating offshore wind projects.
Brand Concept
We presented a brand that was inspired by the wind, and takes inspiration from a wind rose plot, a chart that is used by meteorologists to measure the speed and direction of the wind at a particular location. This gave rise to a dynamic and kinetic symbol creating a simple and memorable identity.
Brand Application
A personable and humanistic feel is emphasised by use of a sans serif typeface, whilst the colour scheme brings to mind the diversity of the ocean and marine landscape. The addition of the tagline "Working with the Oceans" effectively communicates Simply Blue Energy's ecological and sustainable commitment.
Brand Rollout
The brand was applied across a variety of marketing materials including website, video, Virtual Reality applications, exhibition design, presentations and professional stationery suite. A cohesive set of guidelines were created to ensure consistency across all brand communications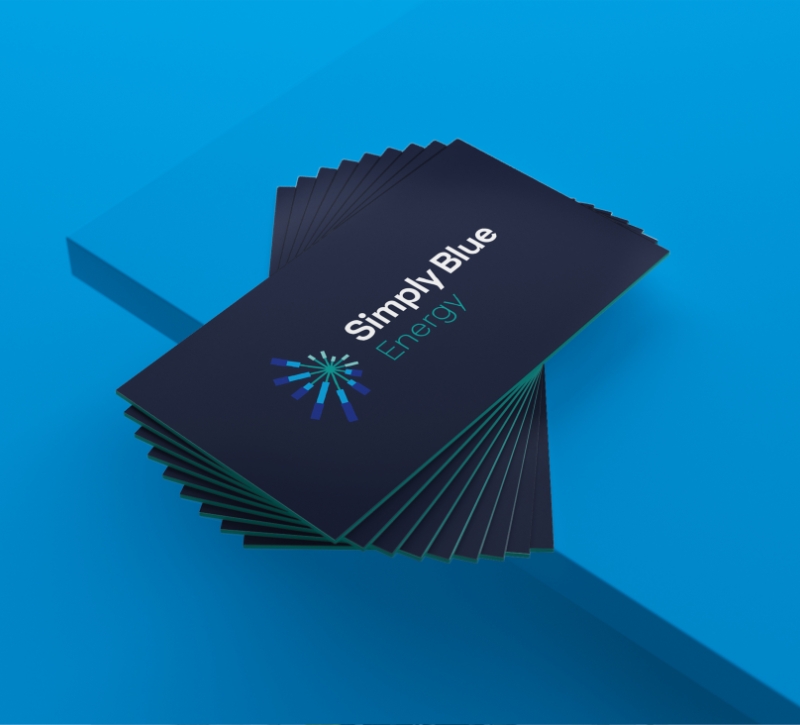 What the client had to say
Idea have created a global brand for Simply Blue and more importantly an entire brand system that provides localised identities for our partner projects around the oceans of the world. They have also provided innovative communication and digital solutions for our international teams utilising VR, Video, Display and Digital comms.
Hugh Kelly, Co-founder,
Simply Blue Group